Industry Leading Anti-Ram Wedge Vehicle Barriers
ASTM F2656-20 M50 P1
Gibraltar's industry leading anti-vehicle barrier portfolio now includes the tested, certified G-2500 Wedge Barrier. Developed to meet the sector's strictest qualification standards for perimeter security and sheer vehicle stopping power, the G-2500 Series Wedge Barrier is useful for any industry in need of a vehicle barrier at one or more access points. Industries include chemical treatment plants, industrial warehouses, power plants, water treatment facilities, refineries, military bases and airports.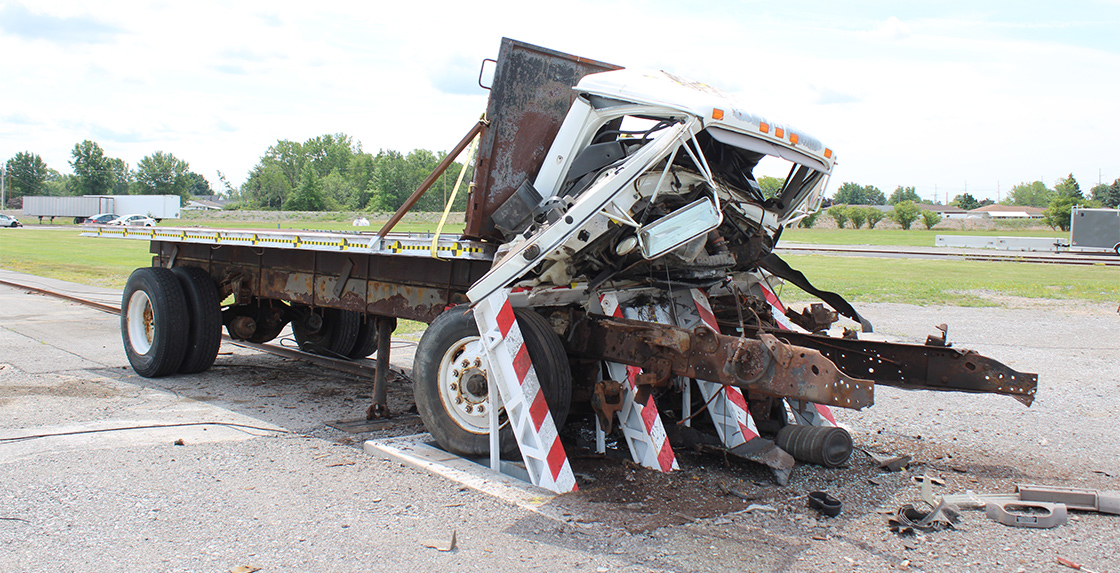 Research and Development
The patent pending G-2500 M50 P1 Wedge Barrier is a next generation electric wedge barrier developed by Gibraltar. To design and develop the barrier, Gibraltar's team pulled in data and feedback from our award-winning G-2000 M50 P1 Wedge Barrier along with competing products from partners and integrators in the industry. We have improved upon every aspect of what the G-2000 offered the industry in the tighter packaged G-2500.
No actuator, No problem.
The number one wear item on all electric barriers based on data analyzed is the lift assists, i.e. springs and pneumatics. Second to that is the ball screw, linear, or servo actuators utilized in those barriers. Gibraltar designed the G-2500 M50 P1 Wedge Barrier to operate 100% electric without the use of any actuator, eliminating the wear items that historically cause headaches on electric wedge barriers in the roadway. The barrier is offered as a standard with a corrosion resistant IP68 rated brake motor and gearbox. Without an actuator or lift assists like springs or pneumatics in the barrier there are very few failure points.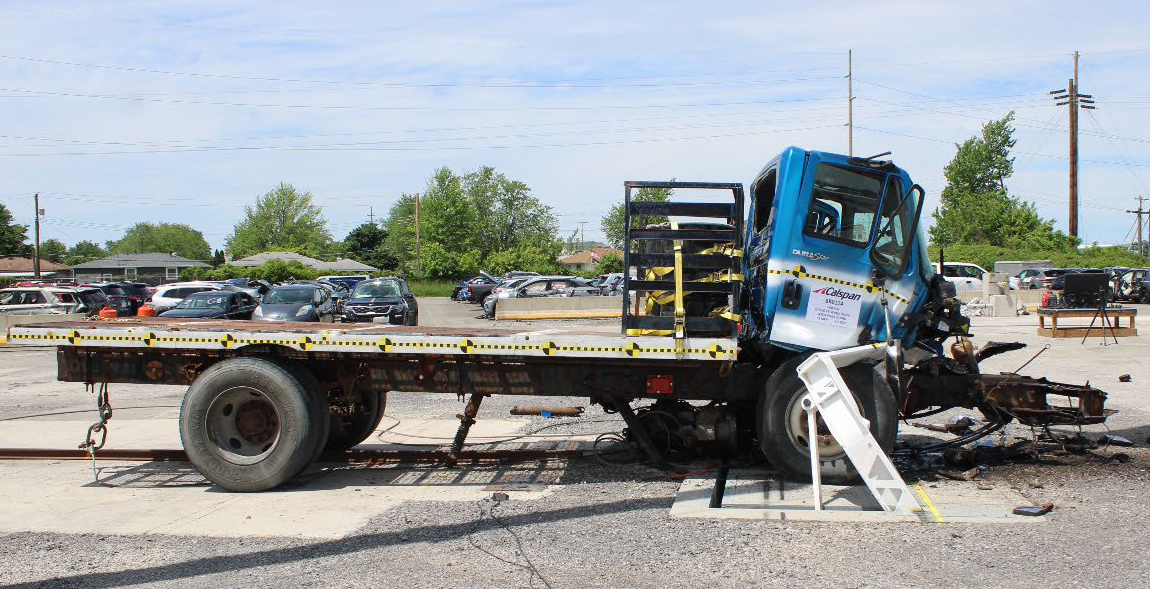 The Barrier of the Future
We offer the barrier with proximity switches as a standard for barrier positioning. However, during design, we were able to create a custom mounting bracket to accept an encoder for those out there who need to know barrier position at all times to coordinate with system programs across a campus. The G-2500 can achieve an Emergency Fast Operation (EFO) of sub-1.5 seconds on electric operation as well. Making it suitable for all specifications meeting or exceeding the requirements for DOD, DOS and HCIS on EFO operation. The G-2500 is also capable of operating at a duty cycle rate of greater than 300 cycles/hour alleviating any real world concern of over heating or failure due to duty cycle rate. This makes the G-2500 a great option for access control environments where the barrier is opening and closing for every vehicle.
Meets the stringent ASTM F2656-20 M50 P1 Certification
Gibraltar certified the G-2500 in a minimum and maximum width configuration of 8'-0" and 14'-0" respectively. This allows Gibraltar to offer any blocking width between these two widths and maintain certification on the barriers. Gibraltar's G-2500 8'-0" wedge unit achieved an ASTM F2656-20 M50 P1 certification with a maximum penetration of .360 meters (1.18 ft.). The 14'-0" wedge unit achieved an ASTM F2656-20 M50 P1 certification with a maximum penetration of .309 meters (1.017 ft.).
Additional Specifications
The G-2500 M50 P1 Wedge Barrier does not require on-site rebar as it is all fabricated into the barrier. Installers only need to run conduit and drain lines to the barrier, set in place, plumb and pour concrete. Systems can be equipped with battery backup to run over 600 cycles on BBU under loss of power. Additionally, due to the proprietary and unique design of the G-2500, the barrier can be lifted into place by hand without the use of any drills or removal of plates when equipped with a 24VDC UPS for the motor brake system. The 24VDC UPS allows brake release on the motor via pushbutton to allow manual lift of the barrier by hand. The brake system will auto-lock once raised to the fully deployed position.
The G-2500 is also the only wedge barrier known available to be able to accommodate bi-directional linear LED light strips. These LED lights are visible from the attack and protected side of the barrier, eliminating the need for in-pavement luminaires.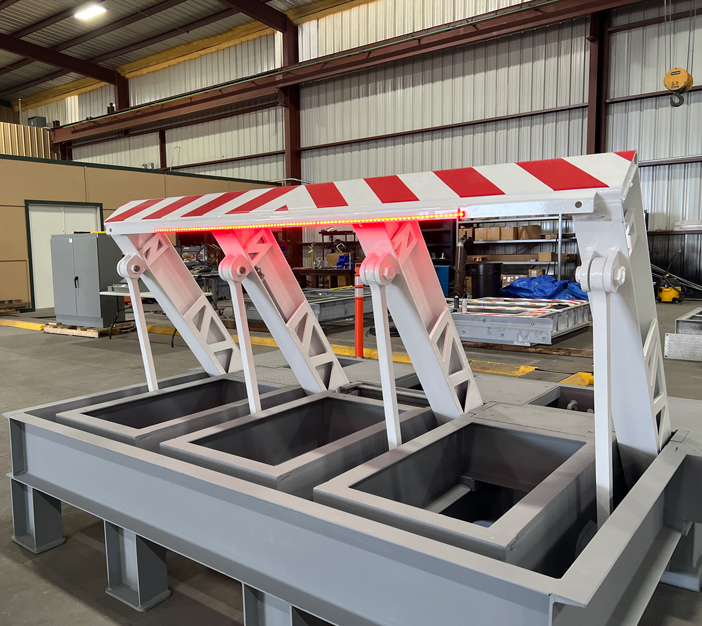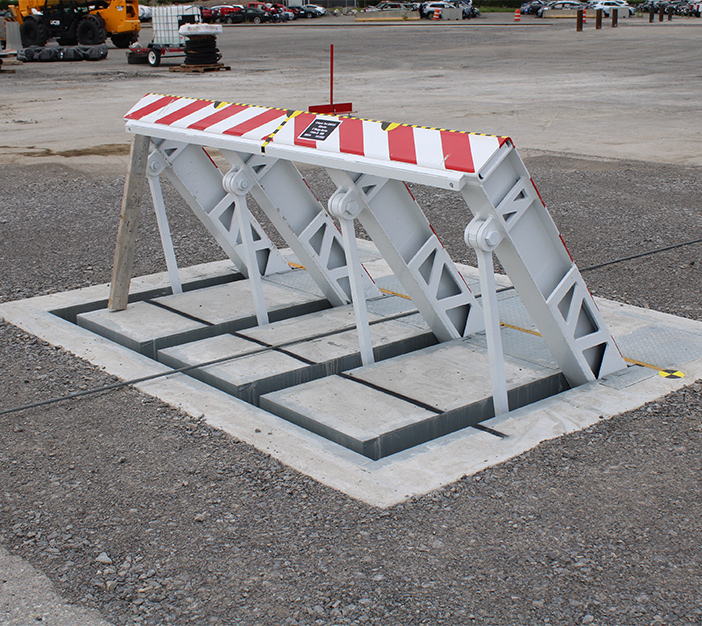 The barrier finger assembly can be coated to RAL color code per the client specifications. This includes hot-dip galvanization to ASTM A123 on the frame and finger set as a standard base offering.
The barrier foundation has a depth of 24-inches (610mm) and a deployed height of 41-inches (1041 mm). The barrier is sized to fit dimensionally within sea containers and standard trucks in the United States.
The G-2500 M50 P1 Wedge Barrier is a great choice for data centers, critical infrastructure, access control points, military bases, government buildings, stadiums, arenas, convention centers, refineries, power plants, water desalination plants, electric generation facilities, nuclear plants, and classified/secure locations around the globe.
Contact Gibraltar For More Information
Gibraltar's high quality, industry leading G-2500 Series Wedge Barrier provides clients across many sectors with long-lasting, exceptional access control – nearly maintenance-free. Clients with additional questions regarding specifications, testing requirements, or other configurations may call or contact Gibraltar via our contact page. Simply complete the online form and a member of our expert team will reach out as soon as possible.