Gibraltar's products are proudly manufactured in the USA utilizing American steel and components. We meet all requirements of Buy America and Buy American with our barriers.
Gibraltar is the leader in North America when it comes to crash-rated bollards. Our proprietary crash certified and engineer rated bollard designs have been installed across the world to protect pedestrian areas from errant or purposely driven vehicles.
Gibraltar currently offers shallow bollard designs crash certified to ASTM F2656-07 M50 P1 and ASTM F2656-15 M30 P1. These designs require only 12 inches (305mm) of depth allowing them to be installed in areas with limited ground depth. Gibraltar has supplied thousands of these units across the United States. Our standard foundation offering is certified to ASTM F2656-07 M50 P1. This installation requires 48 inches (1220mm) of depth and a trench style foundation for install.
Gibraltar also offers engineer rated shallow bollard and standard bollard designs utilizing past crash testing data and 3rd party calculations by a licensed professional engineer. Gibraltar's bollards can be found on the United States Army Corps of Engineers (USACE) DOD Anti-Ram Barrier List.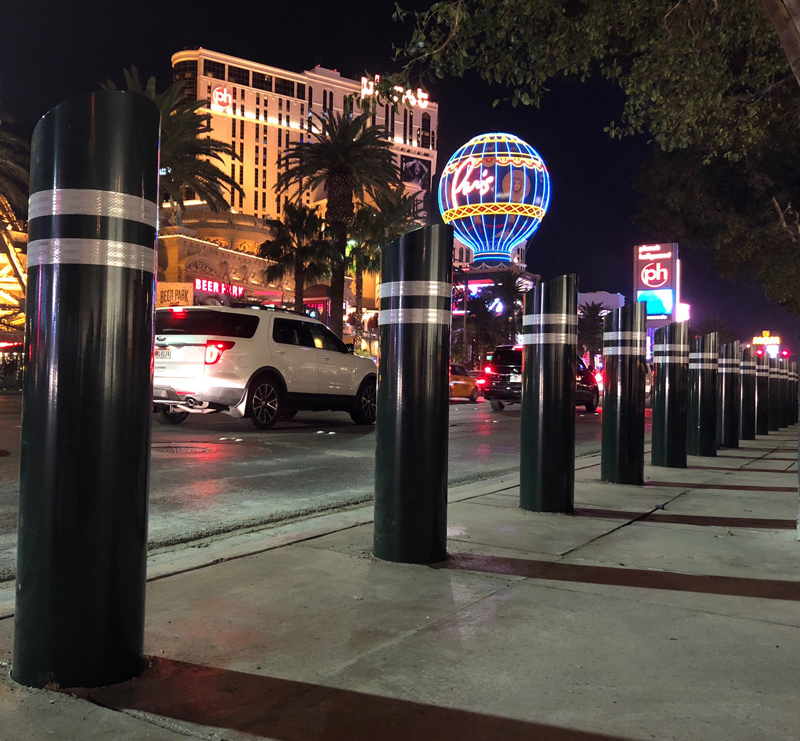 The patented G-2000 Wedge Barrier is the do it all wedge barrier. This unit can be operated in both electro-mechanical and hydraulic configurations. The unit has been crash test certified to ASTM F2656-07 M50 P1 at both 8 ft. (2440mm) blocking width and 14 ft. 6 in. (4420mm) blocking widths allowing for acceptable interpolation of widths in between these. Gibraltar's standard blocking widths offered are 8 ft. (2440mm), 9 ft. (2743mm), 10 ft. (3048mm), 12 ft. (3658mm), and 14 ft. 6 in. (4420mm) widths.
Gibraltar has performed 3rd party engineer duty cycle testing of the electro-mechanical barrier to 250,000 cycles with no major parts replacement. Multiple units have been tested to exceed 1,000,000 cycles with proper maintenance intervals performed. The G-2000 does not require the use of springs, pneumatics or any other additional assist to deploy the barrier under normal or EFO operations.
Installation on slopes is not an issue either as the system has guide sleeves meaning you do not need a trough for chains to fall in to as some other designs in the market place have. Our electric version of the wedge barrier unit utilizes an IP68 rated stainless steel motor as the standard offering. This unit drives an actuator to lift and lower the barrier. A manual lift gear box is included with all electric wedge barrier units, which allows the user to drive the barrier up or down with an 18V power drill in the event of total loss of power. Gibraltar can supply as an option heat trace systems that are pre-installed in the barrier at the manufacturing facility. We have successfully performed PVT testing in temperatures that below -20F. We offer standard heat and arctic heat trace options depending on the location the wedge barrier is to be installed. Gibraltar can supply electric power units, hydraulic power units and battery back up systems that we design and build in-house. Gibraltar also builds out all push-button control panels, PLC, and HMI programming in-house.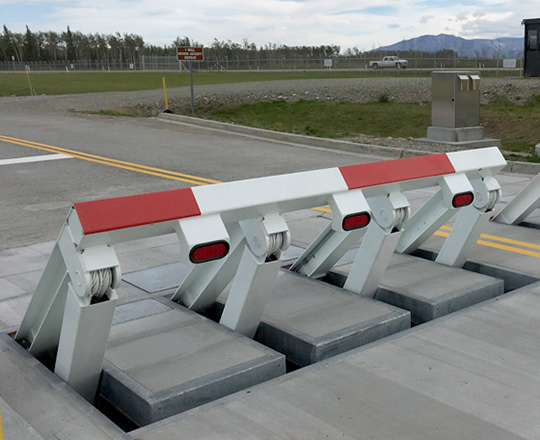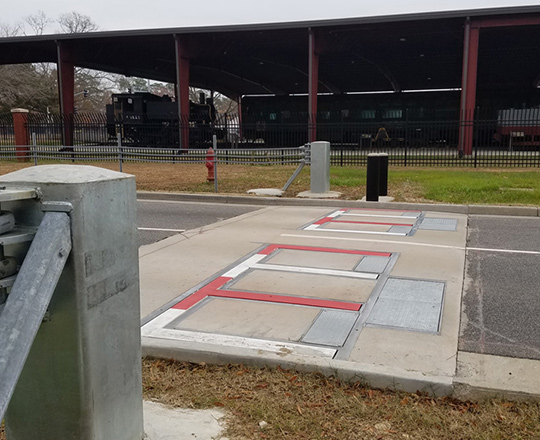 The patented G-3000 Series Vertical Lift Barriers are units that can be used to shut down multiple lanes at once without having to utilize multiple barriers. These barriers are final denial barriers that have been certified to ASTM F-2656-07 M50 P1 at 24 ft. clear open width and ASTM F2656-07 M50 P2 at 50 ft. clear open width. These units are operated hydraulically and with the 50 ft. unit you can shut down four lanes of traffic with a single barrier.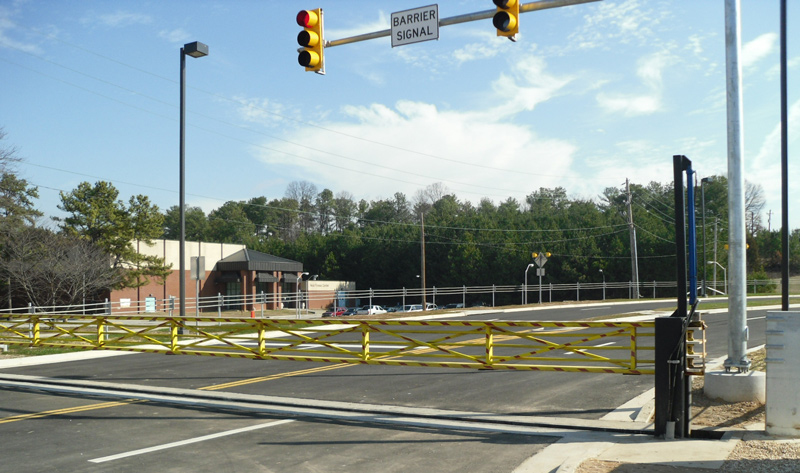 Gibraltar offers engineer rated drop arms that can be operated manually or hydraulically.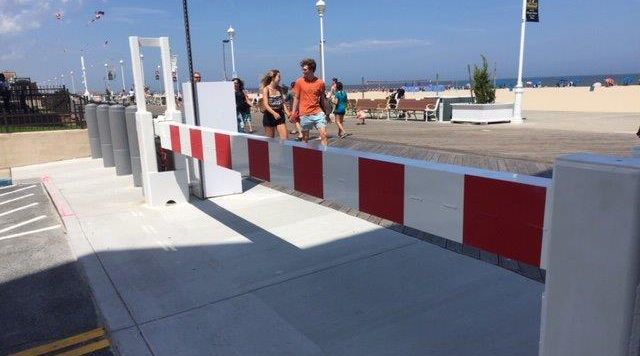 Gibraltar offers multiple types of anti-ram gate solutions. We have crash certified options at both 28 ft. and 24 ft. widths to ASTM F2656-07 M50 P2. We also offer engineer rated swing and slide gate solutions as well.
G-5500 M50 P2 Anti-Ram Slide Gate
Our gates are a cost effective solution to combine an anti-personnel gate with a crash rated barrier. We offer overhead slide gates, cantilever gates, v-track gates, single leaf swing gates and double leaf swing gates. These designs can be manual in operation or electrically powered.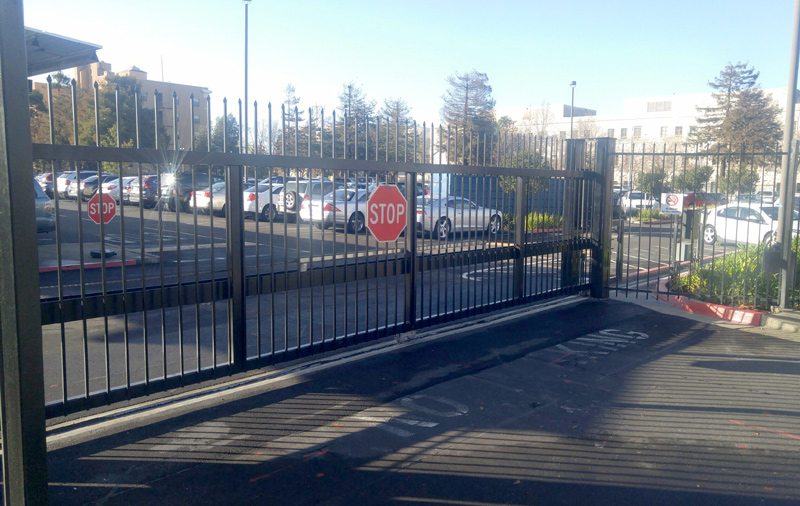 Our G-FORCE Post & Beam System is certified to ASTM F2656-07 M50 P1, ASTM F2656-07 M40 P2, and ASTM F2656-07 M30 P1. We offer engineer rated solutions based on the extrapolated results of our testing at ratings of M50/P2, M40/P1, and M30/P2. This system is one of the most cost effective passive barrier solutions available currently. The stand alone system only has 5 or 6 major components for assembly depending on the rating desired, making installation a breeze when erecting the barrier in the field.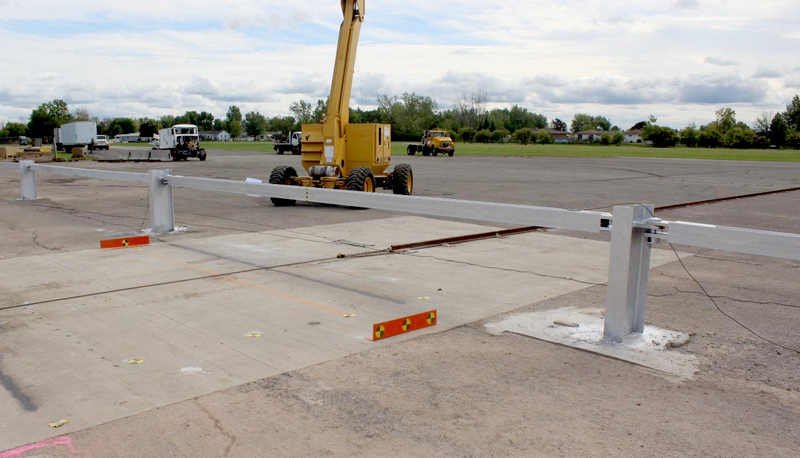 Our G-FORCE Brace & Beam is a shallow foundation perimeter barrier system that only requires 12 inches (305mm) of depth to install. This system has been tested and certified to ASTM F2656-07 M50 P1. This system was designed for areas that need maximum protection but do not have the depth to install deep footings.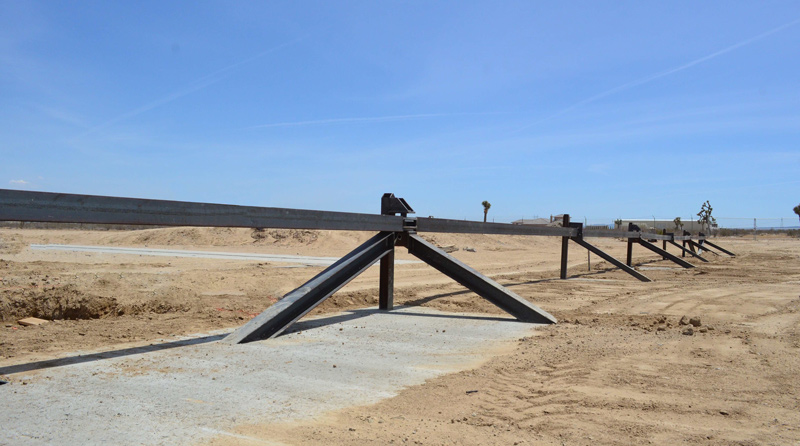 Our G-FORCE Combination Fence is another shallow foundation option. This perimeter barrier system has a maximum 12 inch depth with a mow-strip at 4 inch depth. This barrier was designed for applications in the Middle East where they needed the anti-vehicle barrier combined with their anti-personnel fence. This system is certified to ASTM F2656-07 M50 P1.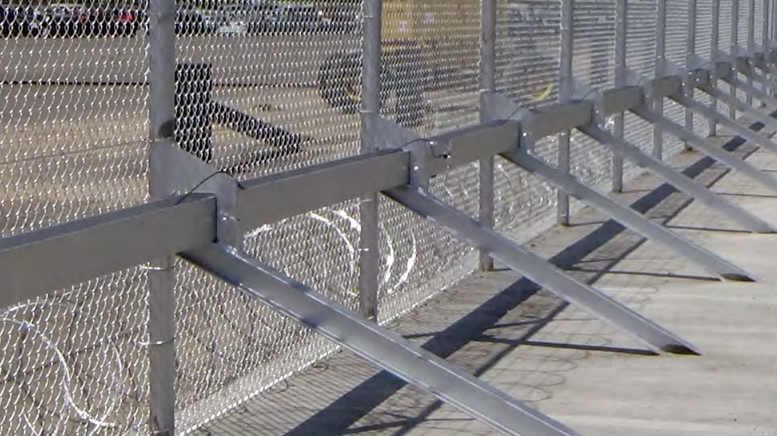 Gibraltar's patented modular vehicle barriers are a great option for portable and mobile vehicle barrier solutions. This product is great for large or small events where groups of people are gathered and vulnerable to errant or purposely driven vehicles. The units do not require any anchoring to the surface and simply set in place. The units can be set in place utilizing a standard pallet jack by one person with the proprietary Gibraltar modular vehicle barrier mover attachment. This attachment allows you to move any size modular vehicle barrier with one person. A skid steer or forklift can also be utilized to set the units in place as well.
The 20'-0" modular vehicle barrier unit was tested and certified to ASTM F-2656-07 M30 P2. Our 10'-0" modular vehicle barrier unit was in-house tested utilizing a sedan at 30MPH with zero penetration. We in-house tested our 5'-0" units with a standard quad cab pickup at 30MPH. This was done with a pedestrian archway connecting the two 5'-0" units together. The 5'-0" units must be connected to another unit to maintain crash-worthiness. The units can be stacked within one another to make for easier storage and require less space. Another unique option with the modular vehicle barrier is that anti-personnel fence panels can be added to maintain perimeter security around an event as well as provide vehicular protection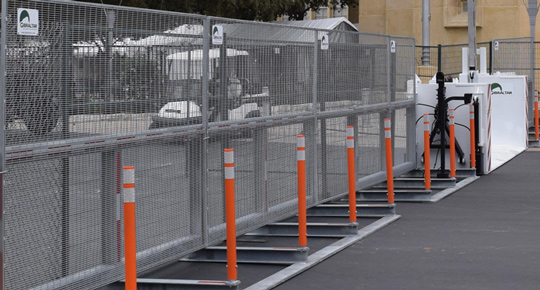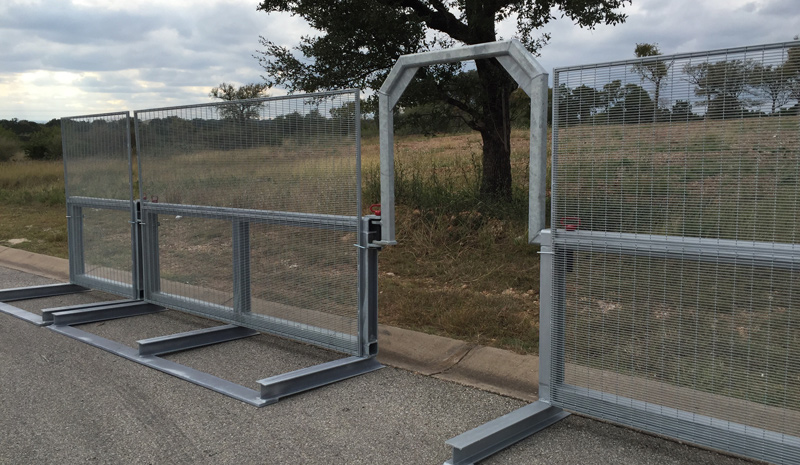 Gibraltar manufactures steel Gideon™ Fence Systems that are powder-coated to customer RAL color code requirements. Our Gideon™ Fence Systems are manufactured in the USA utilizing US steel. We offer multiple heights and curved or straight pale designs. For the most secure facilities we offer an anti-climb configuration that tightens the gaps between the pales so intruders cannot get a grip on the fence system.
Facilities requiring anti-ram protection can combine our Gideon™ Fence System with our G-FORCE passive barriers to have an anti-personnel and anti-vehicle barrier system together.