The Global Leader in Crowd Protection Vehicle Barriers
Modular vehicle barriers are a key asset in the vehicle barrier portfolio and are a leading reason Gibraltar is considered a global leader in crowd protection. Why? The Gibraltar modular vehicle barrier is widely recognized as one of the lightest, most quickly deployable crowd protection solutions for multiple sectors.
About Gibraltar's Modular Vehicle Barriers
Gibraltar's line of modular vehicle barriers is available in 20-foot, 10 foot, and 5 foot units, all separately crash tested. Units can be linked by the standard extension bar, designed to add stability and impact resistance, or the optional pedestrian archway. Each archway provides a 42" wide, 80" high opening for pedestrians to pass through without compromising the impact resistance of the modular vehicle barrier as a whole.
Depending on size, up to 24 units can fit on a single flatbed trailer. When coupled with the relatively light weight pallet jack attachment, Gibraltar's Modular Vehicle Barriers are extremely simple to deploy at a moment's notice. Despite their light weight, however, units are engineered to utilize the encroaching vehicle's own inertia to stop itself, allowing units of all lengths to achieve a high level of crash-tested stopping power.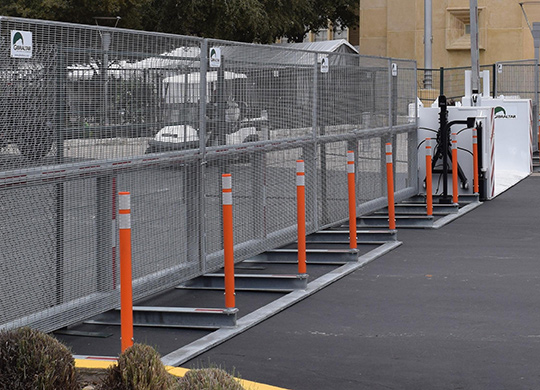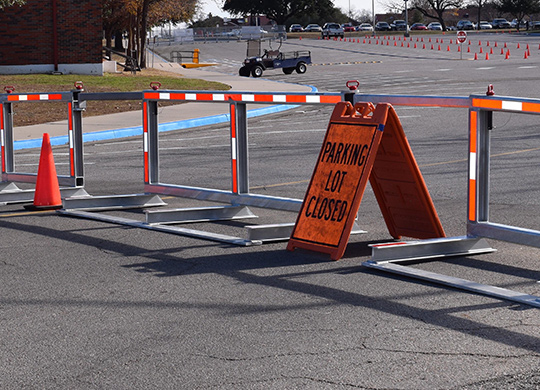 Industry Leading Impact Resistance
All Gibraltar's crowd and facility protection offerings are tested to ASTM F2656 standards and certified, and the modular vehicle barrier is no different. Currently, Gibraltar's modular vehicle barrier is certified M30 P2 as a single, 20-foot unit, meaning each unit can withstand impact from a 15,000-pound vehicle traveling at speeds up to 30 mph. In addition, once sections of the barrier are assembled and in place, each can be pinned to the next with an extension bar, adding to the mass and impact resistance of the barrier.
However, Gibraltar's impact testing did not stop with the 20-foot unit; experts performed extensive, in-house testing of both the 5 foot and 10 foot units. While 5 foot units must be linked to another modular vehicle barrier unit for crash resistance, in-house testing of 5 foot units linked to a pedestrian archway unit stood up to a full-size Dodge Ram pickup traveling at 30 mph. Ten foot units were tested using a full-size sedan traveling at 30 mph, as well as a full-size pickup traveling at 30 mph with a 45 degree impact angle.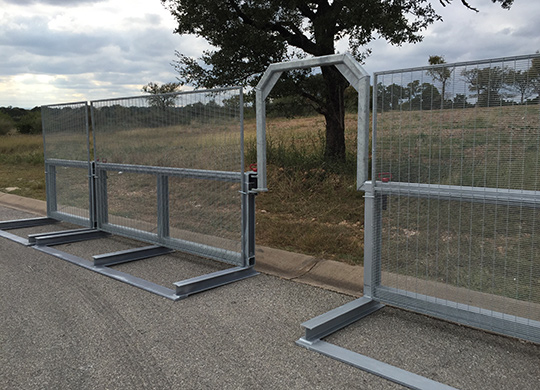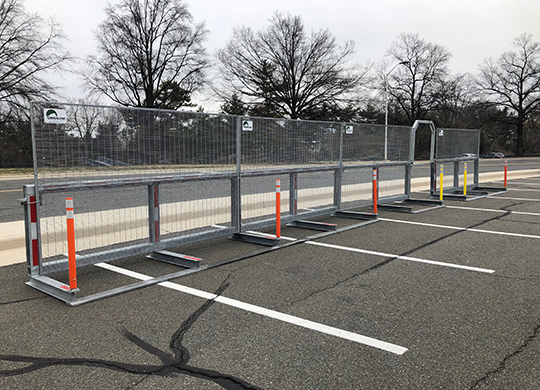 Customization Options
Clients can choose to add 10 foot by 6 foot anti-pedestrian fencing panels if pedestrian control is necessary. In addition, all pins and connection plates were designed to seamlessly flow with the surrounding urban terrain, including curbs, step-ups, and more; each section can adjust within a total range of 24 inches, plus or minus 12 inches. All additional customization options are tested in-house and in conjunction with all unit sizes. Finally, while all modular vehicle barrier units come standard finished with hot-dip galvanized steel, custom wet-paint finishes are available upon request.
Contact Gibraltar Today
The Gibraltar modular vehicle barrier is widely considered the global standard for crowd protection and control, ideal for multiple functions in a large range of sectors. For more information about modular vehicle barriers, including customization, crash test ratings, and additional specifications, please contact Gibraltar by phone. Alternatively, complete the online information request form and a representative will contact you as soon as possible.