Industry Leading Anti-Ram Wedge Vehicle Barriers
ASTM F2656-07 Tested and Certified
Gibraltar's industry leading anti-vehicle barrier portfolio now includes the tested, certified G-2000 Wedge Barrier. Developed to meet the sector's strictest qualification standards for perimeter security and sheer vehicle stopping power, the G-2000 Series Wedge Barrier is useful for any industry in need of a vehicle barrier at one or more access points. Industries include chemical treatment plants, industrial warehouses, power plants, water treatment facilities, refineries, military bases and airports.
M50 P1 Wedge Barrier
Wedge barriers provide entry point security to prevent unauthorized vehicle access to sensitive locations with other perimeter security in place. They may be installed alone or in conjunction with other entry barriers. All wedge barriers are crash tested for impact resistance and weighted against a universally accepted set of standards to determine their level of efficacy. Gibraltar's G-2000 Series M50 P1 Wedge Barrier has consistently proven capable of exceeding international standards.
The Gibraltar M50 P1 Wedge Barrier is a shallow foundation wedge barrier that meets or exceeds all vehicle barrier standards set forth by both the United States Department of Defense (DOD) and the United States Department of State (DOS). As a result, the M50 P1 is included on the US Army Corps of Engineers (USACE) DOD Anti-Ram Vehicle Barrier Approved List in all available widths ranging anywhere from 8 feet to 14.5 feet. More specifically, this 2000 Series Wedge Barrier was tested to ASTM F2656-07 standards, resulting in its M50 P1 certification.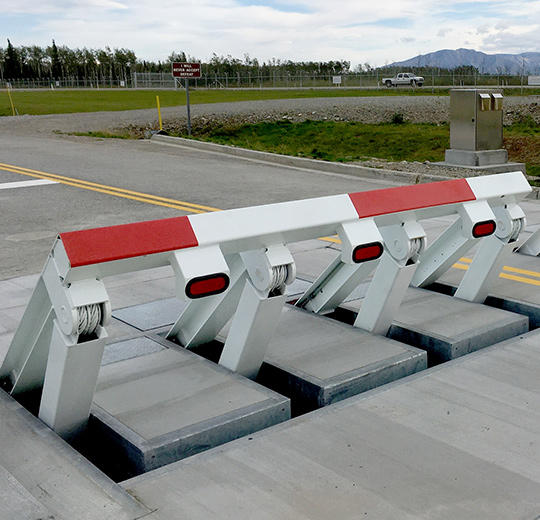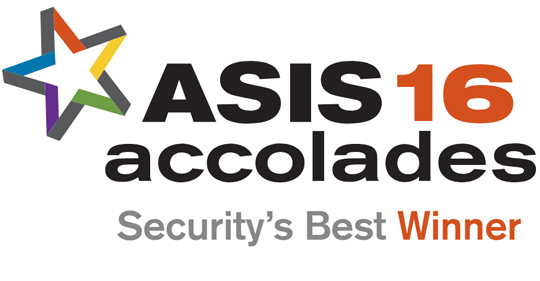 This barrier halted the initial vehicle at a negative penetration of -1.10 meters and halted a second vehicle to achieve P1 certification at .708 meters. The barrier is considered highly effective against both vehicle attacks and vehicle-borne improvised explosive devices (VBIEDs).
Gibraltar's electric wedge barrier has garnered an award as well, receiving an ASIS Accolade for "Security's Best Award" at the 2016 ASIS International 62nd Annual Seminar and Exhibits in Orlando, FL. This award was given by a panel of security professionals at the event.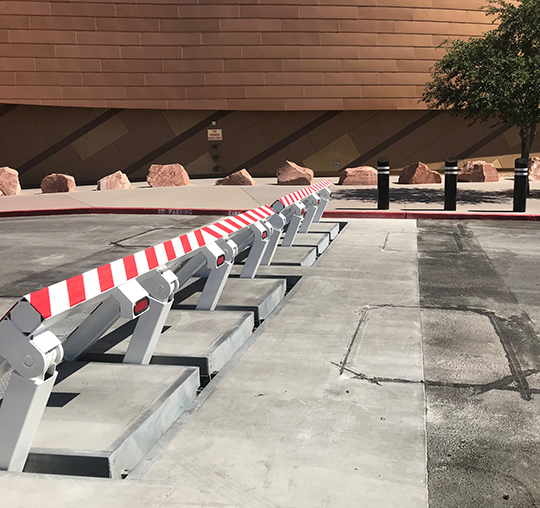 Electro-Mechanical or Hydraulic Options
The Gibraltar M50 P1 Wedge Barrier is available in two separate configurations, full electro-mechanical and hydraulic powered. In recent testing both electro-mechanic and hydraulic emergency fast operate (EFO) deployment is listed at under 1.5 seconds, making both options viable solutions for a wide variety of wedge barrier needs. In addition, no pneumatics, springs, or assists of any sort are necessary for EFO deployment.
Gibraltar performs continuous, ongoing electro-mechanical testing to ensure the durability and length of wear of all electronic parts. Currently, this ongoing testing has reached well over one million continuous deployment cycles, with no signs of slowing or stopping. In addition, all US Department of State barriers must undergo required, third-party cycle testing to ensure strict adherence to electronic barrier requirements.
Efficient Wedge Barriers
The resulting conclusion is that the Gibraltar M50 P1 Wedge Barrier is one of the most durable, low-maintenance wedge barriers currently on the market. Since there are no additional springs or assists necessary for normal or EFO deployment, there are very few points of failure to pose maintenance issues. Coupled with the tested, extreme durability of the IP68 motor and other electronic components – including a submersion test yielding well over 1,200 cycles while completely submerged – Gibraltar wedge barriers are matchless in the industry.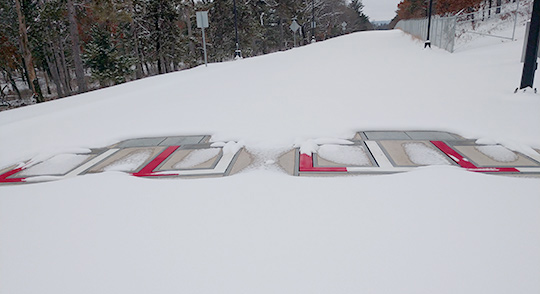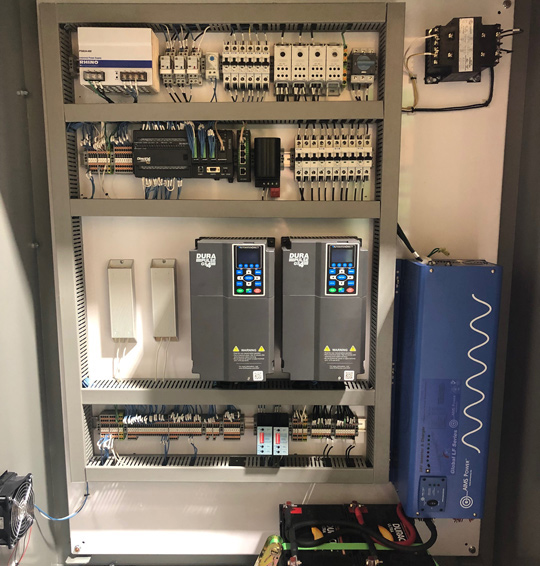 Additional Specifications
Gibraltar 2000 Series Wedge Barriers allow each vehicle to travel over concrete surfaces while not deployed, resulting in reduced wear from vehicle stress and an increased axle weight capacity. In addition, heavy equipment like road graders and snowplows may pass with ease when the barrier is not deployed. These wedge barriers do not employ the use of a chain to connect blocking fingers to the barrier's foundation, allowing their installation on practically any grade at nearly any angle without the hazard of trapping a chain under the barrier.
Available in 8 foot to 14.5-foot widths, these barriers can be used individually or arranged in multiples to provide superior entry control to access points of practically any width. All widths of 2000 Series Wedge Barriers come standard in hot-dipped galvanized steel. However, fingers and other components can be custom painted according to client specifications. To increase visibility, all barriers come standard with flashing, bi-directional LED lights, eliminating the need to undertake the extra expense of installing in-road lighting.
Contact Gibraltar For More Information
Gibraltar's high quality, industry leading G-2000 Series Wedge Barrier provides clients across many sectors with long-lasting, exceptional access control – nearly maintenance-free. Clients with additional questions regarding specifications, testing requirements, or other configurations may call or contact Gibraltar via our contact page. Simply complete the online form and a member of our expert team will reach out as soon as possible.